Feasibility Areas in Vijayawada
We have live streaming service feasibility in all the below mentioned areas in and around Vijayawada. So if you have a live event, live wedding or a marriage broadcast requirement, do get in touch with us.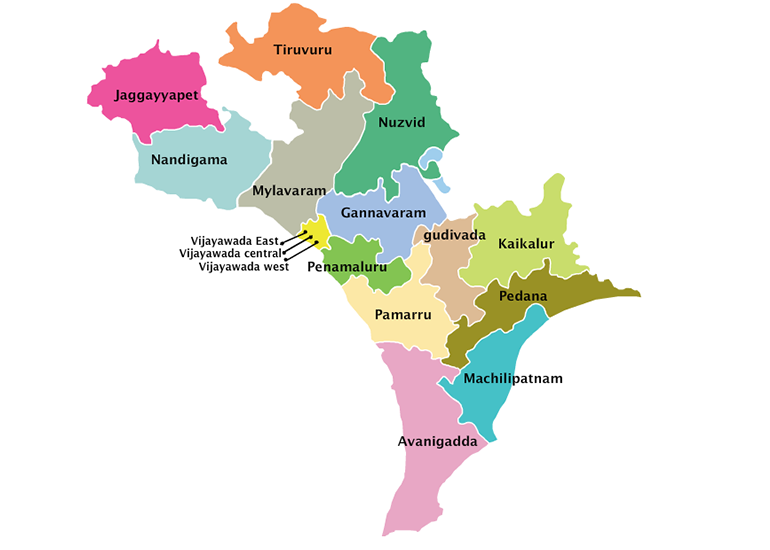 Ajit Singh Nagar, Arul Nagar,Ashok Nagar, Auto Nagar,Ayodhya Nagar, Bandar Road, Bapanayyanagar, Bavajipet, Benz Circle, Bhagat Singh Nagar, Bharathi Nagar, Bhavanipuram, Bhimannavaripeta, Bramanadha reddy nagar Map, Teacher's Colony, Besant Road, Benz Circle, Canal Road, Chalasani Nagar, Chittinagar, Chowdhary Pet, Christurajupuram, Currency Nagar, Devi Nagar, Durga Agraharam, Enikepadu, Fakirgudem, Fraserpeta, Gayatri Nagar, Guru Nanak Complex, Guru Nanak Colony Rd, Gollapudi, Governorpet, Gunadala, Hanumanpet, Jojinagar, Kaleswara rao market – Kamayyathopu, Kanuru, Krishnalanka, Kanchukota Vari Street, Labbipeta, LEPL Icon, LIC Colony, Lurdhunagar, Mallikarjunapeta, Milk Colony, Moghalrajpuram, Mylavaram vari street Map Nehru Nagar, New Postal Colony, New rajarajeswaripeta Map, NH-9, Nidamanuru, Patamata, Vinchipeta, Yanamalakuduru Map, Payakapuram, PNT Colony, Poranki, Ramalingeswara Nagar, Ramarajunagar, Ramavarappadu Ring, Ramavarapupadu, Ranga Nagar, Ranigaritota, RR Nagar, RTC Colony, Sanath Nagar, Satyanarayanapuram main road Map, Styaranayana Puram, Sidhartha Nagar, Sri Ramachandra Nagar, Sriram Nagar, Seethara,puram, Stata Bank Colony, Station Road, Surya Rao Peta, Tumula Center, Teacher's Colony(Benz Circle), Tadigadapa Main Road, Tarapet, Tulasi Nagar, Vambay Colony, Vidhyadharpuram, Veterinary Colony.
A.Konduru, Achavaram, Addada, Adivinekkalam, Adiviravulapadu, Aginiparru, Agiripalle, Agraharam, Ainampudi, Ajjampudi, Akkapalem, Akkireddigudem , Akulamannadu, Alapadu, Allapuram, Alluru, Amaravathi, Ambarupeta, Ameenapuram, Ampapuram, Amudalapalle, Anamanapudi, Ananthasagaram, Angaluru, Anigandlapadu, Anjaneyapuram, Annavaram, Anneraopeta, Anumalkuduru, Anumanchipalle, Anumollanka, Appapuram, Appikatla, Aripirala, Arisepalle, Arlapadu, Arthamuru, Arugolanu, Arugolanupeta, Aswaraopalem, Atapaka, Atkuru, Atlapragada, Avakuru, Avanigadda, Avurupudi, Ayodhya, Ayyanki, Ayyavari, Bahubalendrunigudem, Balive, Balliparru, Balusupadu, Bandarugudem, Bandipalem,, Bantumilli, Bapulapadu, Barlapudi, Barripadu, Bathinapadu,, Bathulavarigudem, Bethavolu, Bezawada, Bhatla Penumarru, Bhavadevarapalle, Bhavanipuram, Bhimavarappadu, Bhogireddipalle, Bhujabalapatnam, Bhushanagulla, Bhyravapatnam, Billanapalle, Billapadu, Birudugadda, Bobbarlanka, Bobbellapadu, Boddanapalle, Boddapadu, Bokinala, Bollapadu, Bomminampadu, Bommuluru, Boravancha, Borrapothupalem, Brahmabotlapalem, Buchavaram, Buckinghampet, Budawada, Buddalapalem, Buddavaram, Burugugudem, Buthumillipadu, Chagantipadu, Chakkapalle, Chalivendrapalem, Challapalle, Chandala, Chandapuram, Chandarlapadu, Chandragudem, Chandrala, Chanubanda, Chatrai, Chavalipadu, Chedurthipadu, Cheemalapadu, Chegireddipadu, Chennavaram, Chennuru, Chennuruvaripalem, Cherkumilli, Cheruvu Madhavaram, Chevendra, Chevitikallu, Chevuru, Chevuturu, Chigurukota, Chikinala, Chikkavaram, Chilakalapudi, Chilakamudi, Chillaboyinapalle, Chillakallu, Chilukuru, China Avutapalle, China Kallepalle, China Kamanapudi, China Pandraka, China Yerukapadu, Chinagollapalem, Chinagonnuru, Chinalingala, Chinamuttevi, Chinapalaparru, Chinaparupudi, Chinapulipaka, Chinatummidi, Chinnampet, Chinnapuram, Chintalapadu, Chintalavalli, Chintapadu, Chirichintala, Chirivada, Chiruvolu, Chiruvolu Lanka, Chitram, Chittapur, Chittela, Chittiguduru, Chitturpu, Chitturu, Chodavaram, Chopparametla, Choragudi, Chorampudi,, Chowtapalle, Dakaram, Daliparru, Damuluru, Dandiganapudi, Dantaguntla, Dargah, Dasullapalem, Davuluru, Dayyampadu, Devapudi, Devaragunta, Devarakota, Devaram, Devarapalle, Digavalli, Dirisavalli, Doddipatla, Dokiparru, Dondapadu, Duggiralapadu, Dundiralapadu, Edara, Edepalle, Edlanka, Edulagudem, Edulamaddali, Edupugallu, Edurumondi, Elamarru, Elaprolu, Ellapuram, Elukapadu, Enamadala, Endakuduru, Endapalle, Fakirgudem, Fathelanka, G.Konduru, Gaddamanugu, Gadepudi, Gampalagudem, Ganapavaram, Ganapeswaram, Gandepalle, Gandepudi, Gandrai, Gangadharapuram, Ganginenipalem, Ganguru, Ganiatukuru, Gannavaram, Ganugapadu, Garapadu, Garikapadu, Garikaparru, Garisepudi, Ghantasala, Godavarru, Gokavaram, Gokinampadu, Gollamandala, Gollamudi, Gollanapalle, Gollapalem, Gollapalle, Gollapudi, Gonepadu, Gopavaram, Gopuvanipalem, Gosala, Gosaveedu, Gottumukkala, Gowravaram, Gudapadu, Gudimetla, Gudivada , Gudlavalleru , Guduru, Gullapudi, Gurrala Lanka, Hanumanthapuram, Hanumanthunigudem, Haveli, Mutyalampadu, Hussainpalem, Ibrahimpatnam, Idugullapalle, Ilaparru, Iluru, Inampudi, Inapuru, Indupalle, Ingilipakalanka, Interu, Ithavaram, Jagannadhapuram,, Jaggaiahpet, Jakkamcherla, Jakkulanekkalam, Janardhanapuram, Jangalapalle, Jangamgudem, Jayanthipuram, Jinjeru, Jonnalagadda, Jujjavaram, Jupudi, Juvvanapudi, Kachavaram, Kaikalur, Kanumolu, Kanumuru, Kanuru, Kapavaram, Kapileswarapuram, Kappaladoddi, Kaptanupalem, Kara Agraharam, Kasarabada, Kasipudi, Katrenipadu, Kavipuram, Kavuluru, Kaza, Keerthirayanigudem, Keesara, Kothapalle, Kothapeta, Kothapudi, Kotikalapudi, Kottada, Kovvadalanka, Kowtaram, Kowthavari Agraharam, Koyyagurapadu, Koyyuru, Krishnapuram, Krishnaraopalem, Krishnavaram, Kummamuru, Lingala, Lingalapadu, Lingareddipalem, Lingavaram, Lokamudi, Lopudi, Machavaram, Machilipatnam, Madaka, Maddetipalle, Maddipatla, Maddulaparva, Madduru, Madhavaram (East), Madhavaram (West), Madhirapadu, Madhurapuram, Madicherla, Magallu, Metlapalle, Nadakuduru, Nadim Tiruvuru, Nagavaram, Nagavarappadu, Nagayalanka, Nagayatippa, Naguluru, Nandamuru, Nandigama, Nandigamalanka, Nandivada, Nangegadda, Narayanapuram, Nidumolu, Nimmagadda, Nimmaluru, North Valluru, Nutchumilli, Nuthulapadu, Nuzvid, Oddulameraka, Ogirala, Ondrampadu, Pagolu, Palankipadu, Pallagiri, Pallerlamudi, Pedana, Pedapalaparru, Pedaparupudi, Pedapatnam, Pedaprolu, Pedapudi, Pedapulipaka, Pedasanagallu, Pedatummidi, Pedavaram, Pedavirivada, Pedayadara, Pedayerukapadu , Peddavaram, Peethalava, Penamakuru, Penchikalamarru, Pendurru, Pendyala, Poranki , Punadipadu, Punnavalli, Puritigadda, Ramakrishnapuram, Ramanakkapeta, Ramanapudi, Ramannagudem, Ramannapeta, Ramanuja Varthalapalle, Ramapuram, Ramarajupalem, Ramavaram, Sanagapadu, Sankarshana Puram, Satuluru, Satyavaram, Savarigudem, Seepudi, Seetanapalle, Seetarampuram, Seri Amaravaram, Seri Dintakurru, Siddhantam, Singanapudi, Singannagudem, Singapuram, Singarayapalem, Sitanagaram, Sobhanadripuram, Somavaram, Somavarappadu, Tenneru, Thadinada, Thakkellapadu, Tiruvuru, Torragudipadu, Tripuravaram, Tukkuluru (M), Tummagudem, Tummalapalem, Tunikipadu, Ulavalapudi, Ullipalem, Ummadidevarapalle, Unguturu, Unikili, Uppaluru, Ustepalle, Utukuru, Vadarlapadu, Vadavalli, Vadlamannadu, Vadlamanu, Vaivaka, Vakkalagadda, Valivarthipadu (Rural), Vinjarampadu, Vissannapeta, Viswanadhapalle, Vuyyuru, Wynchpet, Yaddanapudi, Yakamuru, Yarlagadda, Zami Machavaram, Zamidintakurru.